Headstone photographs from BUNDALONG CEMETERY, Victoria are available free by e-mailing a request to Carol at

Remember to include the name of the cemetery in your request.

From time to time there may be a delay in sending photos so please check the Cemetery Index for any announcements.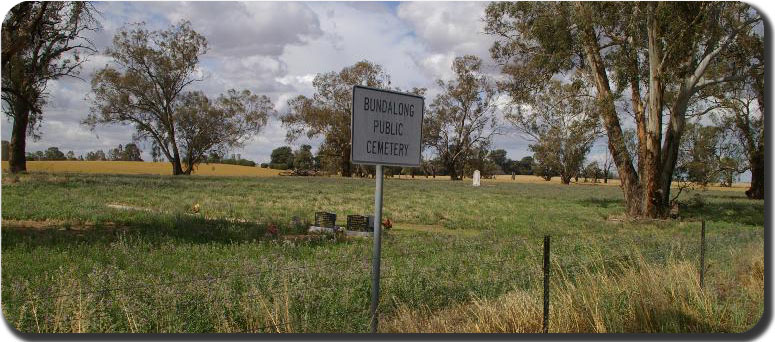 This cemetery was photographed in November 2008 and updated in March 2013.
Additional updates were provided by Pam and Bob in 2021
The list below is not a complete burial list for the cemetery.
BEATTIE Jessie Scott
BELL Margaret Joyce
BIRD Veronica Mary
BOND Susannah, William
CAMERON Allan, William, William Weaver
CAMERON Archibald, Mary
CAMERON Donald
CAMERON Edward James
CAMERON Family Plot
CAMERON James Donald
CAMERON Keith Malcolm
CAMERON Thomas Alexander, May Joyce
CAMERON Thomas, Mary
FLANAGAN James Gerrard
FLANAGAN Michael Joseph
HENDY Catherine, Samuel
HICKS Peter Francis
HICKS Richard Dale, Jane
HOFFMAN Edwin, Violet Marion
HOFFMAN Thelma
HOGERVORST Anna Maria
HOGERVORST George M
ILLINGWORTH Debbie Joy
JOHNSON Graham Keith
KELLY Jeremiah, Sarah E, Michael G, Mary C, Francis M, Mary Ann
LAUDER Catherine, Jessie
LEWINGTON John, Barbara, Charles, Charlotte
MANNIX John Patrick
McKENZIE Jessie, Archibald
McKENZIE Mary, John, Kenneth
NISH Stanley Frederick
PLAYFAIR A, Jim
SEYMORE Isabella, Joseph
SMITH Alice
SMITH David, Emily
SMITH Flora
SMITH Jane
SMITH Margaret
SMITH Robert, David
SMITH William Henry, Amy Elizabeth
STONE Vincent Lawrence
WILSON John Grant
WRAY Colin
WRIGHT Wendy Joy