Headstone photographs from CARWARP, Victoria are available free by e-mailing a request to Carol at

Remember to include the name of the cemetery in your request.

From time to time there may be a delay in sending photos so please check the Cemetery Index for any announcements.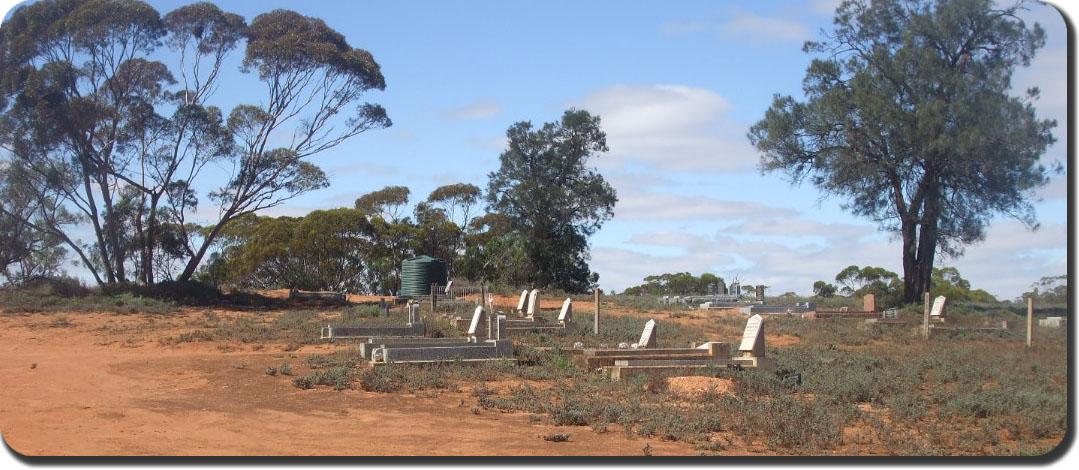 This cemetery was photographed in January 2015
These photographs were kindly donated by Craig
The list below only refers to headstones in the cemetery and is not a complete burial list.
ALLNUTT Albert G
ALLNUTT Robina, Wilhelmina
ANDREWS Ray
APPLETON Eddy A
BEATON Florence Mildred (McNabb)
BEATON Francis
BIRKIN Edith Jessie, Harry, Alma Marjorie
BROWN Ivan, James
BROWN John Robert, Mary Ruth
BROWN Louisa Jane, Albert James
BROWN Sidney Barton
BROWN Tom
BROWN Verna Elizabeth
BULL Albert Henry, Edna Phyllis
BULL Allan
BULL Ben Allan
BULL Mary Jane
BULL Ronald Leigh
CALDWELL Beryl Lillian
CALLAHAN Maria, Daniel
CALLENDER Gerald E R
CHISLETT Lois Margery (Brown)
CLEARY Bertie Phillip, Sarah Lizzie
CLEARY John Thomas, Harriet
CROSS Elsie Agnes, George Murray
DOERING Noel Keith
FORD Grant
FORSTER Trey Ashton
GOWERS Lindsay Howard
GROVES Arthur William
IRWIN Aubrey William
JOHNS Barry Raymond
KIRK Geoffrey G
LEASK Joseph George, Veronica
LEVER Dennis
MASON James Robert, Jean Norma
MUNN Louisa
McNABB Eric John, Thelma Dorothy
McNABB Frank, Clara
McNABB Frederick Charles
McNABB Rhonda Joy (Crowley)
McNABB Roslyn Joy
NEALE Arthur Herbert
NULTY Francis Douglas, Valmai June
NULTY Gavan John
NULTY Hannah May
NULTY Jenna Mae
NULTY John James
NULTY Katie Maree
NULTY Mollie Jean (Bull)
NULTY Neil Robert
ROSS John
RYAN Alphonsus Thomas
SCOTT Darren James, Gregory Gerrard
SCOTT Eveline Mary, Bernard Oliver, Athol George
SCOTT Leonard Clifford
SCOTT William J, Ellen
SHAW Agnes Annie, Mark
SHAW John Otto
SHAW John, Maria E
SHAW Peter Gerrard
SLATER Harry, Stanley, Alan Thomas
SLATER John Sutherland
SPENCE Percy George, Agnes Hilda
TRELOAR Albert John
TRELOAR Frederick Charles
WATTS Claude Thomas
WATTS Ronald Thomas
WINZER Catherine