Headstone photographs from HOPETOUN (Bacchus Marsh) CEMETERY are available free by e-mailing a request to Carol at

Remember to include the name of the cemetery in your request.

From time to time there may be a delay in sending photos so please check the Cemetery Index for any announcements.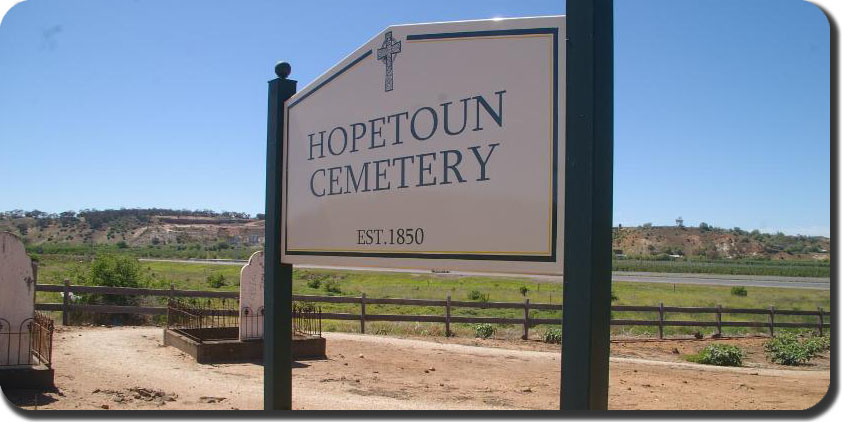 The photographs and list were updated in January 2009.
The list below only refers to headstones in the cemetery
BOWE Bridget, Thomas, Mary, Bridget
BOWE John, Thomas John
CAIN Thomas, Bridget
CONNELL Ellen, Jeremiah, John, John, Mary
DALY John
DOWLING Mary, John
DUNBAR Margaret
ELLIS (nee Dowling) Sarah
FINNIN Mary, Daniel
GRIFFITH Margaret
HALLY Darby
KENNEDY Patrick
LEAHY John, Margaret, Patrick Thomas
McANALY Bernard
McCLUSKEY Patrick, Margaret
McCULLAGH Bridget
McCULLAGH Harry
McCULLAGH James, James, Ellen, John, Eliza
McNAMARA Bridget, Denis, James
NAGLE Patrick Francis, James Henry, Alice, Patrick Francis, Margaret Josephine, Timothy Bernhard
NUTT (nee Perry) Mary
O'SHEA Martin, Stephen, Edmond Patrick
RYAN Thomas, Michael
SHEA Edmond, Honora
SHEA Timothy, Margaret, Catherine

Memorial for known burials
| | | | |
| --- | --- | --- | --- |
| BANKS Catherine | DODEMAIDE Un-named | LOVE Bridget | RICE Lawrence |
| BANKS Henrietta | DOHERTY James | LOVE Catherine | RICHARDSON Thomas |
| BANKS Mary Anne | DOHERTY Mary Ann | LOVE Ellen | ROCHFORD James |
| BEAUMONT Catherine | DOWLING (Doolan) James | LOVE Margaret | ROCHFORD John |
| BEECH Robert | DOWLING John | LOVE Patrick | ROCHFORD Mary |
| BOURKE John | DOWLING (Doolan) Mary | LOVE Rosanna | ROCHFORD Thomas |
| BOWE Bridget | DUFFY Michael | LYNCH Denis | RUSSELL Patrick |
| BOWE Bridget | DUFFY Honora | LYNCH James | RYAN Bridget |
| BOWE John | DUGGAN Henry | LYNCH John | RYAN Elizabeth |
| BOWE Mary | DUGGAN Margaret | MARTIN Annie | RYAN James |
| BOWE Thomas | DUNBAR Ann | MARTIN Lucy | RYAN John |
| BOWE Thomas | DUNBAR Margaret | MARTIN Francis | RYAN John |
| BURT Alexander | EDWARDS Sarah | MARTIN Sarah | RYAN John |
| BURT Mary Ann | ELLIS Sarah | MASON Catherine | RYAN John |
| BUTLER Joanne | ENTREKEN Bridget | MASON James | RYAN Mary |
| BYRNE Mary | ENTREKEN Mary Ann | MASON Thomas | RYAN Mary |
| CAIN Bridget | ENTREKEN Charles | McCARTHY Bridget | RYAN Mary |
| CAIN Catherine | FAULKNER Thomas | McCARTHY Mary | RYAN Matthew |
| CAIN Thomas | FINNIN Catherine | McCARTHY Mortimer | RYAN Michael |
| CAIN Margaret | FINNIN Daniel | McCARTHY Un-named | RYAN Sarah |
| CAIN Mary | FINNIN Edmund (Edward) | McCLUSKEY Patrick | RYAN Thomas |
| CALLAGHAN Lucy Ann | FINNIN Eliza | McCLUSKEY Margaret | SHANAGHAN Stephen |
| CALLAGHAN Susanna | FINNIN Mary | McCORMACK Ellen | SHEA Bridget |
| CALLANAN Catherine | FINNIN Matthew | McCORMACK John | SHEA Catherine |
| CALLANAN Patrick | FITZGERALD Margaret | McCORMACK Margaret | SHEA Edmond |
| CARROLL Mark | FITZGERALD Un-named | McCORMACK Martin | SHEA Edmond |
| CARTE[R] Alice | FORREST Thomas | McCULLAGH Bridget | SHEA Ellen |
| CARTER Elizabeth | FOX John | McCULLAGH Elizabeth | SHEA Hanora |
| CONDON Catherine | GLASHEEN (Leasheen) Mary | McCULLADH Ellen | SHEA Honora |
| CONDON John | GLEESON Jane | McCULLAGH Henry | SHEA John |
| CONDON Margaret | GLEESON Patrick | McCULLAGH James | SHEA Julia |
| CONDON Mary | GOODWIN John | McCULLAGH James | SHEA Martin |
| CONDON William | GRIFFITH Margaret | McCULLAGH John | SHEA Margaret |
| CONNELL Ellen | GRIFFITH Samuel | McCULLAGH Mary | SHEA (O'SHEA) Mary Ann |
| CONNELL Francis | GRIFFITH Thomas | McDERMOTT Margaret | SHEA Patrick |
| CONNELL Jeremiah | HALEY Ellen | McDERMOTT Michael | SHEA Stephen |
| CONNELL John | HALLY Darby | McDONALD Alexander | SHEA Timothy |
| CONNELL John | HAMILTON Catherine | McMANUS Owen | SHEA Un-named |
| CONNELL Mary | HANNIGAN Mary | McNAMARA Dennis | SHINNOCK Catherine |
| CONWAY Daniel | HANSON Ann | McNAMARA James | SHINNOCK Catherine |
| CONWAY Ellen | HANSON Catherine | McNAMARA Margaret | SHINNOCK Mary |
| CONWAY Margaret | HANSON Henrik | McNEILL (McNilly) Bernard | SULLIVAN Timothy |
| COSTELLO Bridget | HANSON John | McPHERSON Charles | TAYLOR Eliza |
| COSTELLO John | HANSON Thomas | McPHERSON Hugh | TAYLOR Mary Ann |
| COSTELLO Margaret | HAYES Mary | MEEHAN John | TOOMEY Mary |
| COSTELLO Mary | HEALY Patrick | MULCAHY Catherine | VALLENCE Mary Ann |
| COSTELLO Michael | HEGARTY Charles | NAGLE Alice | WELSH Ellen |
| COSTELLO Patrick | HJORTH Ellen | NAGLE James | WHELAN Ann |
| CREGAN James | HOPGOOD Mary | NAGLE Margaret | WHELAN Edmond |
| CULLEN John | HOWE Ellen | NAGLE Patrick | WHELAN Ellen |
| CULLEN James | HURST George | NAGLE Patrick | WHELAN John |
| CULLEN Thomas | HURST Mary Anne | NAGLE Timothy | WHELAN Margaret |
| CUNNINGHAM Joseph | KENNEDY Mary | NEWTON James | WHELAN Stephen |
| DALTON Patrick | KENNEDY Patrick | NOLAN Thomas | WHELAN Un-named |
| DALY John | KENNEDY Patrick | NUTT Mary | WILL Albert |
| DELAHUNTY Daniel | KENNY Letitia | PIGOTT Francis | WILL John |
| DEMPSEY Charles | KENNY John | POWER Anne | WILL Margaret |
| DENSLEY Arthur | KING John | PURCELL Laurence | WILSON Ellen |
| DENSLEY Dianne | KING Patrick | PURCELL Pierce | WILSON Joseph |
| DENSLEY Ellen | LEAHY John | PURCELL William | WILSON Julia |
| DENSLEY Margaret | LEAHY Timothy | RAE (Ray) Patrick | WILSON Un-named |
| DENSLEY Thomas | LEAHY Margaret | REILLY Catherine | WORTHY Catherine |
| DEVEREUX James | LEAHY Patrick | REILLY John | WORTHY Henry |
| DEVEREUX Michael | LOCKHART John | RICE George | WORTHY Henry |
| | | | WORTHY Michael |