Headstone photographs from HOPETOUN CEMETERY, Western Australia are available free by e-mailing a request to Carol at

Remember to include the name of the cemetery in your request.

From time to time there may be a delay in sending photos so please check the Cemetery Index for any announcements.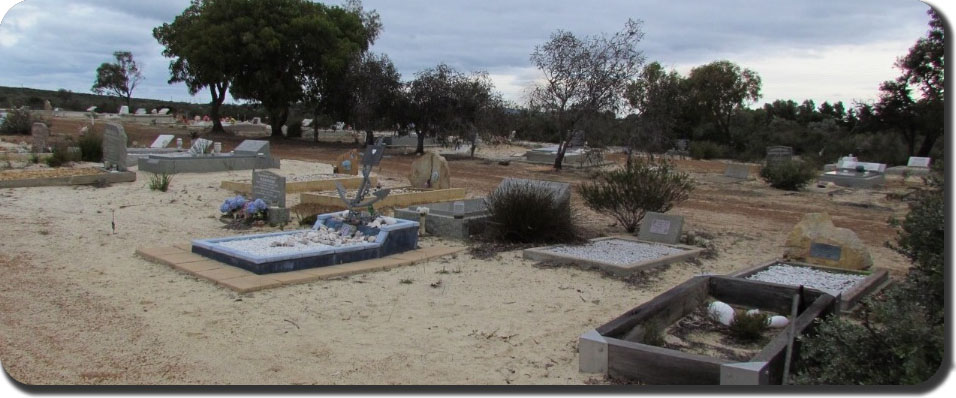 These photographs were very kindly donated by Richard in June 2013
The list below only refers to headstones in the cemetery and is not a complete burial list.
ALEXANDER William
ALEXANDERSON Patrick Aksel
ALLEN - PHOENIX Wendy E
BAILEY Eva Joyce
BAILEY S W - DIED 1993
BELLI Julian Peter
BOOTHEY George Joseph
BOOTHEY Jean (Formerly Stephen nee King)
BOWNDS Lorraine Edna
BREED W E - died 1996
BRYAN Alan
CAPORN Nellie M
CLARKE Donnell Edward
COULSON Peter - wooden cross
COWCHER Robert Neil, Maureen Jane Margaret (Scarlett)
CRANE Clement Albert
CROCKER Emily Thelma
CROCKER Henry Munro
DANIELS Annie Phyllis (Pizer), Arnold Edward
DANIELS Malcolm Roland
DART Ernest Cooper, Adeline Maud
DAWSON Kathleen Marion, Ronald Kenneth
DUDLEY Edward William
DUNHAM Kevin Charles
EDWARDS Fred
EDWARDS Lilian Whitmore
EGERTON James, Mary
ENGLISH Raymond John
FARMAN Archibald Harry -wooden cross
GAHAN Patrick Joseph
GRANT Florence Mary (formerly Wilson nee Brooker)
HALBERT Gordon Dudley
HAWKINS Cyril Albert
HEWITT Christopher
HEWITT Margaret Jean
HEWSON Christina Marjory
HEWSON Ronald James
HINDRIKSEN John
KING Merle - wooden cross
LEGG John Francis
MARCHETTI Charles Stanley
MARKOSKI Slobodan
MARLEY Thomas Edward
MILLER Lorraine
MULLANE A G - died 1992
McLEAN Benjamin E
PARKER Orville John, Jean Douglas
PENGLASEJohn Cyril
PHOENIX Michael
PROUDLOVE Kenneth Albany, Kathleen
QUINN Robert
QUINN William George
RANDALL Nelly
RANDALL Sidney
REDMAN William Perrin
ROBERTSON Kathleen Mary
SCHUBERT Joyce Mary
SCHUBERT Noel Victor
SEWARD Gary Kevin
SMYTH Irene Beryl
SMYTH Lawrence Patrick
SUGG Francis Trevor
SUGG Gladi Edna (nee Bruce nee Barber)
TAYLOR Ron
THOMAS Gordon Samuel
TURLE Eileen Isabel
UNKNOWN Jack - WOODEN CROSS
VENTER Johannes Petrus
WARNEFORD Gavin Arthur
WHALLEY Fanny
WHALLEY Robert Burn
WILLIAMS Sam Joesph
Old Cemetery
BASTIAN Cyril Edwin
BOULD Harold
COCHRANE John
FRY Harry
MOE Fritz
WALDEAU August Hermann
WESTCOTT Samuel Edward