Headstone photographs from JINDERA CEMETERY, New South Wales are available free by e-mailing a request to Carol at

Please remember to include the name of the cemetery in your request.

From time to time there may be a delay in sending photos so please check the Cemetery Index for any announcements.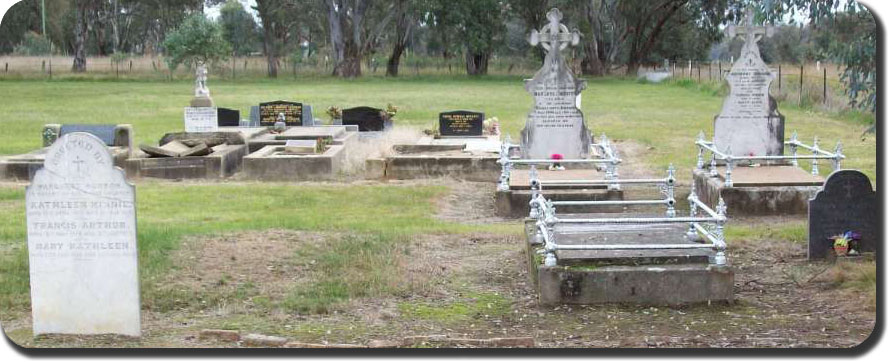 These photos were kindly donated by Ron
The photographs and list were updated in June 2011
The list below only refers to headstones in the cemetery and is not a complete burial list.
ASHWEIRTH Rhonda Joan
BAKES Jeremiah Nathan
BARLOW Elizabeth
BARLOW John
BARLOW Louisa (nee Andriske, formerly Schulz)
BENNETT Freda Zeberia
BENNETT H B - died 1945
BENNETT Wayne Bartholomew
BENNETT William
BOYD Morgan Robert
CAMERON William Lawson
CEVAAL Frederick Adriaan
CEVAAL Gerretje Adriana (Van Santen)
CHAMINGS William James
CHILD Isabel Mary
CROSS Thomas Acton, May Eileen
DEEGAN Michelle Elizabeth
DUNCAN Francis Gerald
EDGECUMBE Ruby Melva May
EDGECUMBE Sydney George
GIBBONS Ellen, Hannah
GIBBONS Francis W, Melded, Victor L
GIBBONS Francis
GIBBONS Hannah Christiana, William F
GIBBONS Therese
GREENE Elenor Ann
GREENE Frederick C, George
GREENE George Robert R
GREENE John Robert
GREENE Winifred
GREGORY John Thomas
HANEL W A - died 1999
HILSLEY James
HOWARD Robert Charles
JAKOBY August
JAKOBY John A, Reta
JAKOBY Mary Ann Jane
KEIGHRAN Gregory Lawrence, Dorothy Maude
KEIGHRAN John, Elizabeth
LYNCH Ronald
MANSFIELD Dorothy S
MANSFIELD Michael Gilbert
MANSFIELD Michael
MANSFIELD Noel
MEYER Ken
MORTON Anthony Edward, Parnel Pierce, Daisy Alice
MORTON Charles John
MORTON Gregory Foster
MORTON Kathleen Minnie, Francis Arthur, Mary Kathleen
MORTON Margaret
MORTON Wyn
McLAREN - DRYDEN Shirley June
RALPH Geoffrey Colin
ROSLER Herman Louis
SAWYER Lionel Harold Richard, Florence (Fleming), Lionel Robinson, Rita June (Taylor)
SCHILG Emma (Rosler)
SMITH Agnes Hester
SMITH Sidney
SOWDEN Ben
SUTHERLAND Eric James, Eileen Betty
TAMBLYN Christine Margaret
TURNER Frances Rogerson
UNKNOWN Phyllis Mary
WAGNER
WILTSHIRE Robert Bruce
WOODS Eliza (Falk)
YEATES Lorrie Coll, Wilma Peel