Headstone photographs from Marlo, Victoria are available free by e-mailing a request to Carol at

Remember to include the name of the cemetery in your request.

From time to time there may be a delay in sending photos so please check the Cemetery Index for any announcements.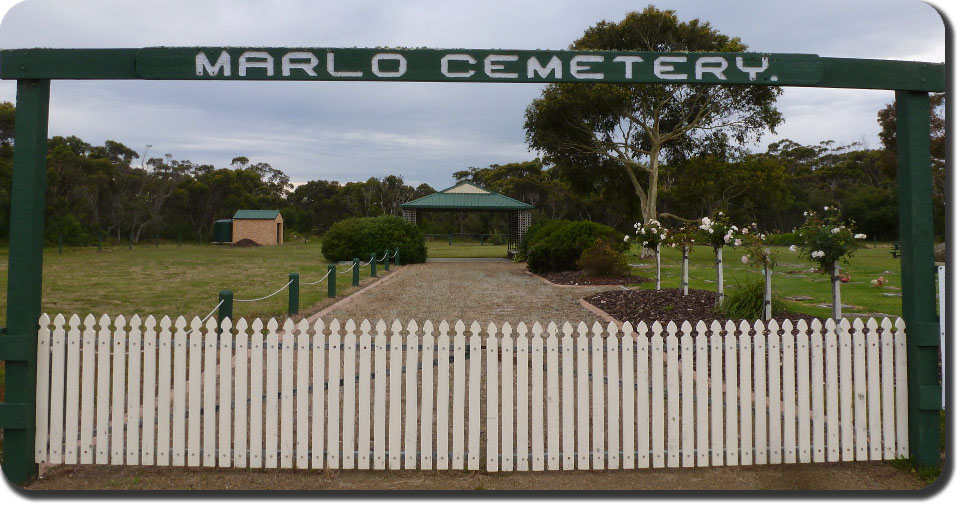 This cemetery was photographed in December 2013
Photos kindly donated by Anita
The list below only refers to headstones in the cemetery and is not a complete burial list.
ADAMS Betty Elizabeth
ADAMS Hugh Cameron
ADAMS Hugh William
ARMISTEAD Francis E
BAIN Colin James
BAKER Arthur F
BANKS Douglas Boogie
BARKER Gladys Charlotte
BECKETT Colin Francis
BROWN Raymond Kerry
CAMERON John Hugh
CAUSH Myftar (Peter Ali)
CHRISTMAS F J - died 1953
COCHRANE Scott Micheal
COLLARD Noel Edmond, Bessie Jean E
COLLINS Gordon
CONNELLY Colin Richmond
CONNELLY Nicholas J
CUTHBERT George Neil
CUTHBERT Lillian Merle
DAVIS William Malcolm
DRUMMOND Charles Gordon
DRUMMOND Lillian Isobelle
DUNOON Mary Ellen (Lynn)
EARLE Anthony George Grenville
EARLE Mildred
EDWARDS Megan Gail
ELLIS Belinda Maree
ELLIS Lesley Margaret
FARIS Helen (Garlick)
FEARNLEY Beryl
FEARNLEY Norman
FINK Rowan Geoffrey
FUSSELL Robert George
GOLDSWORTHY Bill, Pearl
GOUGH Laurence F
GRIFFIN Peter Graeme
HALL John Robert
HALL Lance
HALL Margaret Joan
HARDWICK Eveline
HAYLER Kenneth John
HEARD Edwin Peter Maxwell
HELMERS Shaun Robert
HEPWORTH Roland Henry Hawtrey
HINCHLIFFE John Laurie
HUNTER Donald Keith
HURLEY Kenneth William
JENKINS E M M - died 1999
JOHNSTON James Edward
JOHNSTON Joan Mary
JOINER Leslie Daniel
JONES Dex Stanley
JORGENSEN Rupert Leslie
KENDRICK Donald Norman
KENDRICK Jean Alice
KRUPA Fryderyk Stanislaw
LAMBERT Ada
LITTLE Kenneth David
LOFTING Robert
LOFTUS Frank
LYNN Sam
MACKAY Ronald
MAHER Linda Margaret Jane (Young)
MARINO Paul
MATHERS Michael P
MATHERS Shirley Dawn
MATTHEWS A P (Perc) - died 1982
MATTHEWS Mary
MORRISON Gerald Duncan
MULLER Alfred James
MUNDY Angus Henry
McCOOEY Arthur William
McCOOEY Vera
McKEOWN Grace Jane
McKEOWN John Edward
McLEOD Barry
O'SHEA Winifred
PACH O J - died 1992
PALMER Basil A
PALMER Charles A
PALMER Doris Isabella
PALMER Frank William
REYNOLDS John Clarence
RICE Gilbert
RICHARDSON Samuel
ROBBINS Alan James
RODWELL James Stephenson
RODWELL Lillian Rona
ROSS Marie Theresa
ROSS Ronald Niel
SCHEIBEL Muriel June
SCHEIBEL Oscar William
SCHEIBEL Terence Oscar
SEEBACH Clarence
SEEBACH Dorothy Mary
SHEAD Marie Therese
SHELLEY Lynne Eileen (Robinson)
SHONE Patrick
SHONE Theressa Mary Flora (Ballmaine)
SLEIGHT Peter James
SMITH Monty
SMITH Sydney Eric
STEED Pamela Isobel
STIRLING John
STIRLING William, James, Ann, James
TAYLOR Edward Henry
TESORIERO Antonio
WARD Roy Alexander, Christina Evelyn
WARDLE Leonard Albert
WARREN John Herbert
WEATHERLEY Albert Charles
WEATHERLEY Diana Cooper
WILLIAMS Elsa Gwen
WILLIAMS Roy Douglas
WILLIAMS Russell Ronald
WINCHESTER Ian George
WINCHESTER Peter Donald
WOERZ Gottlieb C
WOERZ Rolf Gerhard
WOERZ Rosine L
ZUTT Cornelis, Anna Elizabeth (Berkhout), Jacobus