Headstone photographs from MOONLIGHT HEAD CEMETERY, Victoria are available free by e-mailing a request to Carol at

Remember to include the name of the cemetery in your request.

From time to time there may be a delay in sending photos so please check the Cemetery Index for any announcements.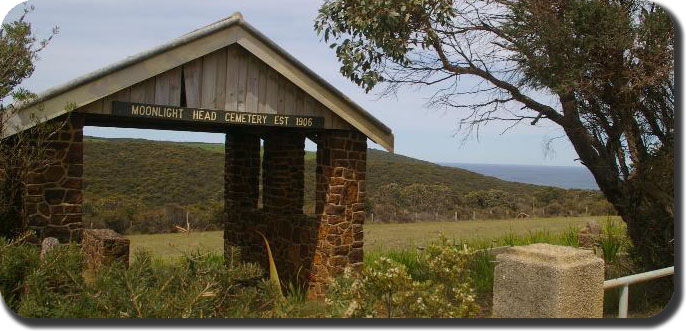 The photographs and list were updated in October 2008.
The list below is not a complete burial list for the cemetery.
ATKINSON Fred M, Naomi V
ATKINSON Michael Y
DANIEL Malcolm George
DANIEL W G
GRATTON WILSON Ada Mary
GRATTON WILSON James Andrew
GRATTON WILSON John
GRATTON WILSON William
GRAY Mrs - died 1913
HENRIKSEN Emily
HUNT Peter Richard
MARRINER Michael Robert
McCLUSKEY Barry Kevin
McKENZIE Daryl Grant
McKENZIE Elsie May
MOORE John Baldwin
MOORE William Bruton
MUTTON Peter Anthony
RHODES Christina
RHODES Immanuel D
RHODES James
RHODES Robert D
RHODES Thomas Immanuel
ROBE William
SMITH Leila Noreena
STEWART George Scott, Agnes Annie
WEBSTER Stewart