Headstone photographs from Mourambine Cemetery, Western Australia are available free by e-mailing a request to Carol at

Remember to include the name of the cemetery in your request.

From time to time there may be a delay in sending photos so please check the Cemetery Index for any announcements.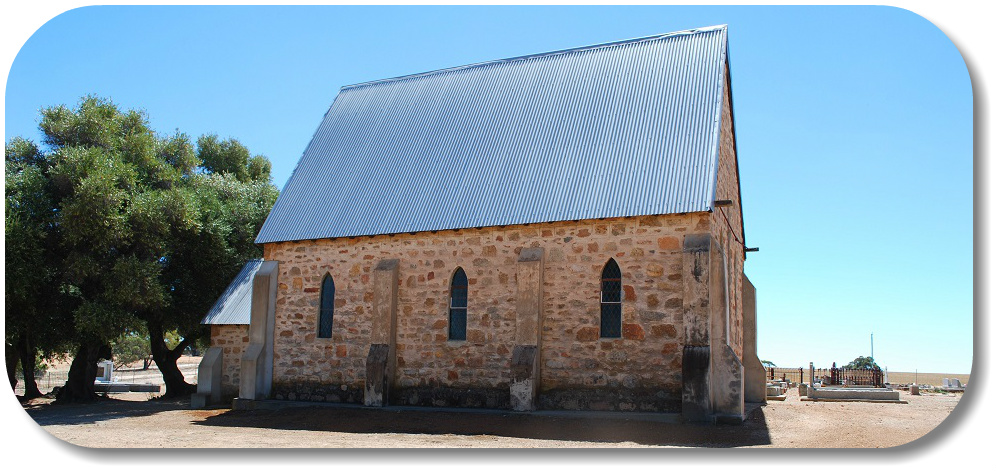 This cemetery was photographed in April 2017 by Phil Cooper
Many thanks to Phil for kindly donating these photos
The list below only refers to headstones in the cemetery and is not a complete burial list.
ATKINS Mary, Eva
BAILEY Francis Maria - on Seabrook headstone
BAKER Allan Edward
BAKER John Edward, Rachel Jane
BAKER Rosalind Moi
BOX Lavinia
BROWN Hazel
BROWN Henry James, Sarah Elizabeth
BROWN Roy
CLARK Henry
CLAYDEN Bob
CLAYDEN Roma
COX Ann
COX Clara Ann
COX G H - died 1984
COX George William
COX George
COX Joyce Caroline
COX Rachel Ann
DHU Arnold, Doris
DHU E L - died 1921
DHU Herbert Edward
DHUE Thomas
DUNCAN John, Daisy (Shaddick)
FAIRHEAD Alfred Chittleborough
FAIRHEAD Bernard
FAIRHEAD George Valentine, Florence
FAIRHEAD Gordon Forrest
FAIRHEAD Infant son of G & F
FAIRHEAD Keith John, Ethney Florence
FAIRHEAD Lindsay John
FAIRHEAD Lloyd George
FAIRHEAD Mary, James
FAIRHEAD Melva Eileen
FAIRHEAD Susanna, Reade
GILLETT Ada Mary
GILLETT Frederic Charles
GILLETT Margaret Anne
GILLETT Norman Frederic, Helen Elizabeth
GILLETT Ruth Hussey
GOODENOUGH James, Mary
GREAY Alfred David, Sarah Jane
GREAY Leslie Edward
HALLETT A A V - died 1974
HILL Graham Kenneth
INGRAM Mary
JAMES Henry
KERR Enid Maria
KERR Taylor
KERR Vivian Lawley
LEAKE Donald Malcolm
LEAKE Elizabeth Ann (Shaddick)
LEAKE Malcolm Hubert
LEAKE Robert Bruce
MALEY Matthew
MAY Charles Erskine
MAY Charlie Methwin, Edith Esme
MUDD Emmeline Mary Flower
MUDD William Graham
NICHOLSON James
PARKER Stephen, Mary Catherine (Biggin)
PERRY Clara
PERRY William James
SEABROOK Margaret Maria
SEWELL W E - died 1880
SHADDICK Ada Gertrude, Allan Geoffrey
SHADDICK Beatrice Annie, Bernice Susanna
SHADDICK Cyril Bartram, Susanne Elizabeth
SHADDICK Freda Mary
SHADDICK John Frederick
SHADDICK John Norris, Susanna Wyborne
SHADDICK John, Elizabeth Ann
SHADDICK Kelvin
SHADDICK Leonard Ronald
SHADDICK Roy Allen
SHADDICK Sarah Elizabeth
SHADDICK William Henry
SHADDICK William, Faith
SHADDRICK Doris
SMITH Annie
SMITH Charles Chapman
SMITH Donald Drummond
SMITH Edward Lewis
SMITH Flora Diana Courthope
SMITH Frank Drummond
SMITH Madge Sellars
SMITH Martha Louisa
SMITH Richard Drummond
SNOW Alfred Harold
SNOW John
SNOW Mary Ann, Alfred
SNOW Norman Lewis
SNOW Olga Amelia
SNOW Victor
SQUIRE Julia Wilkins
SQUIRE Reuben Donald
WALTON Ada Zillah
WALTON Albert
WALTON Alice Elizabeth
WALTON Carter Body
WALTON Clara Jane
WALTON Clifford Thomas
WALTON Colenso
WALTON Edwin
WALTON Fanny
WALTON H T - died 1922
WALTON Henry
WALTON Ivy Una
WALTON Kathleen Ivy
WALTON Muriel Clara
WALTON Stephen
WALTON Sydney
WALTON Thomas Edward
WILLIAMS Vera