Headstone photographs from Silverton Cemetery, New South Wales are available free by e-mailing a request to Carol at

Remember to include the name of the cemetery in your request.

From time to time there may be a delay in sending photos so please check the Cemetery Index for any announcements.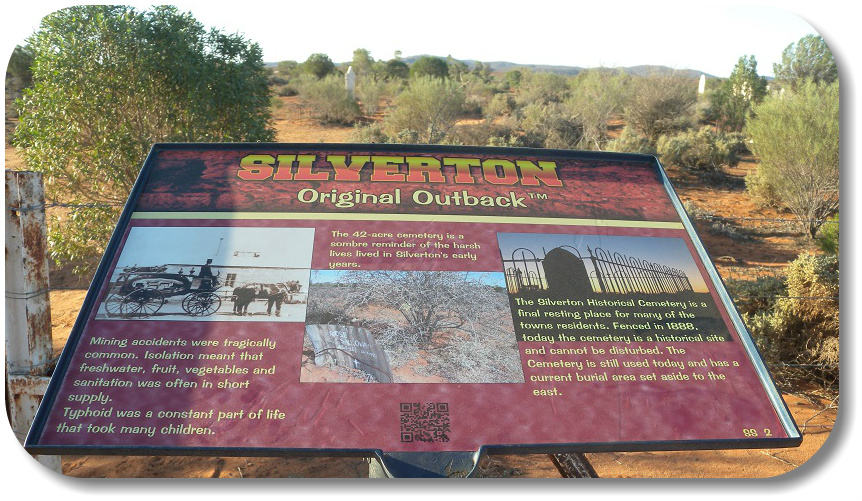 This cemetery was photographed by Teresa K
Many thanks to Teresa for kindly donating these photos
The list below only refers to headstones in the cemetery and is not a complete burial list.
ANDERSON J W - died 1884
BONE Elizabeth Ann, John
BRADY Ann
BROWN Victoria Winifred
CAMPBELL Amelia, Margaret
CANT Elizabeth - on Kennewell plaque
CHAPPLE Annie
CLARK Richard William - wooden cross
CROSSING Mary An - on Kestell headstone
DESMOND Joh
EDGE Johno
HARDING Charles Thomas, Samuel Parsons, Arthur
HARDING John H P, Mary, Frederick
KENNEWELL Richard
KENNEWELL Thomas, Mary Ann (Francis), alfred Ernest, Ivy Acacia
KESTELL Jane
LIDINGTON Alfred, Rose Ann
MITCHELL Mary Elizabeth
McINNES Donald, Jessie Reed
NUTT Thomas Harwood
O'GRADY Francis D
PHILIPPSON Hannah
POLKINGHORNE Josiah
POWELL William, Annie Alice, Sylvia Ruth
ROBERTS William
SALLOWAY Jose
SEFTON John Robert
SHORT William Thomas John
SPILLER Willliam John
STOKIE John
SUMMERTON Florrie Hardy
TANTRAM Bathsheba Mary
TREMAINE W - died 1888
TRUSCOTT Edward
UNKNOWN - died aged 22 years
WOOD Harrie Lionel
WOODROFFE Bronwen Margaret Standley
ZANDER John Albert Edward