Headstone photographs from STRATHBOGIE CEMETERY, Victoria are available free by e-mailing a request to Carol at

Remember to include the name of the cemetery in your request.

From time to time there may be a delay in sending photos so please check the Cemetery Index for any announcements.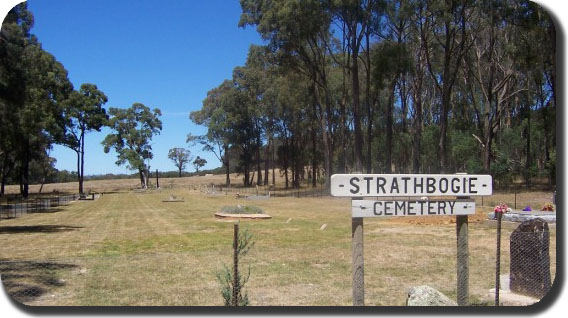 Photographs were kindly donated by Amanda.
The photographs and list were updated in January 2010.
The list below only refers to headstones in the cemetery and is not a complete burial list.
Headstones and plot markers
ANDREW C
BARNS Norman Henry
BRADY Mark
BROCK M J - died 2007
BURNETT David Robert Anthony
CANN Margaret
DEAN Dorothy, Alfred James, Rosa Elizabeth, Agnes Rosa
FLYNN Joseph Anthony
GERRARD William
GRAY Darren Shane
HART Henry
HAYES Joseph, Mary, Miriam
HAYES Marion - plot marker
HUTCHINSON Lizamin - plot marker
JACKA Arthur - plot marker
JACKA Joshiah - plot marker
JUKES David - plot marker
LOVRENOVICH
MALLET Ruby - plot marker
MIDDLETON David Ernest
MIDDLETON Norman Basil
MILLS Albert - plot marker
RAE Wilbert Norman, Anna Irene, James
RATHMANN Johann
SCHMID Dieter Wilhelm
SHORT Bruce
SHORT Renee Louise
SIEMS Roderick Alan
SIMPSON Lindsay - plot marker
SMOOKER Ralph - plot marker
TAME Laurence Burnham
TAYLOR George
TAYLOR Leigh, Archie
VON GUTTNER-DEBSKA Barbara
VON GUTTNER-SPORZYNSKA Grazyna
WALKER James W, Elizabeth
WALTON Evelyn
Other known burials - no headstone
DELAHEY Clement
EINSPORN Infant son
JACKA Infant son
McCOLLINS Infant son
McMURRAY Mary
MORLEY James
PALLET Infant
RICHARDS Eric
SHAW Alexander
TAYLOR Clement
TAYLOR John