Headstone photographs from WILLUNGA UNITING CHURCH CEMETERY, South Australia are available free by e-mailing a request to Carol at

Remember to include the name of the cemetery in your request.

From time to time there may be a delay in sending photos so please check the Cemetery Index for any announcements.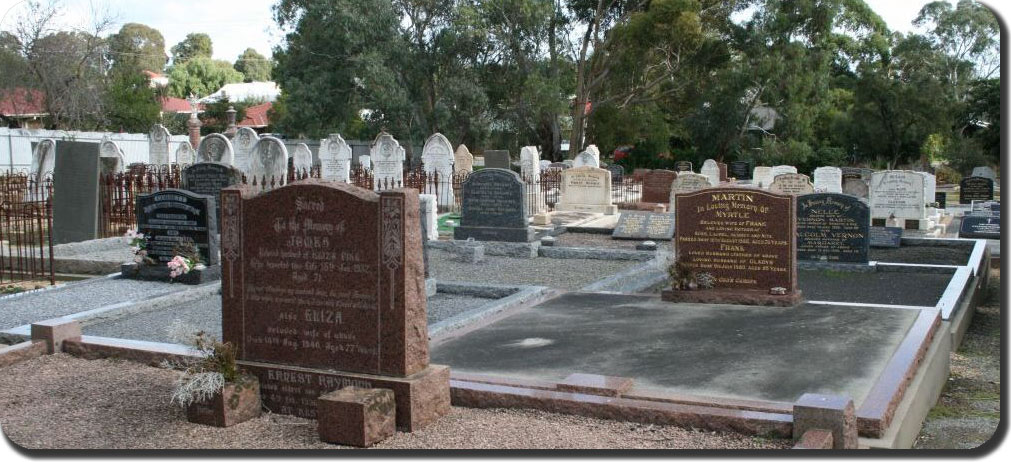 This cemetery was photographed in May 2009 and updated in April 2013
Photos kindly from May 2009 donated by Kellie U
The list below only refers to headstones in the cemetery and is not a complete burial list.
ALDAM Mary Honor
ALLARD Catherine
ALLARD George
AMOS Arthur Thomas, Margaret Joan
ANNINOS Grace
ATKINS Albert
ATKINSON Thomas F & Hazel May
AVON P E - died 1997
BAKER George Edmund
BANNISTER Donald Frederick
BARNES Edward James
BASSETT Ann, Fanney Farmer, William Farmer, William Farmer
BASSETT James Bailey & Mary Murrell
BASTIAN Ann
BASTIAN Phillipa
BASTIAN Sampson
BATES John Frederick
BENNETT J James
BERG Millie
BIGG Arabella
BIGG Edward
BLOTT Leonard Thomas William & Dorothy Eileen
BRABBINS James Thomas
BROWN Arthur William & Ethel Maud
BROWN Elva J C
BROWN John
BUCHANAN Beatrice May & Stanley Albert
BURROUGH Matthew Wayne
BUTTON Edward Roy
BUTTON Olive Maud
CANT Anne Montgomery
CANT James Montgomery, Dora Cecil
CASTLEDINE James
CHENOWETH Ada May & Oscar Albert
CHENOWETH Jane
CHENOWETH Samuel & Martha
CHENOWETH William, Elizabeth & Hugh
CLAYTON Allan Gilbert
COCK John
COLE Edward AJ
COLE Sylvia Laurel
COLES Robert Martin & John Murdock
COPE William T
CORBETT Leo Francis & Amy
CORBETT Peter Charles
CORNELIUS James & Elizabeth
COUCHMAN Arthur Brace & Vera Rose (Culley)
COX Elsie Amelia
COX Stanley John
COX Walter Ernest & Frances Helen
CREED Arthur & Irene Evelyn
CULLEY Francis Benjamin & Jessie Evelyn
CULLEY Frank
CULLEY Lilya & Francis Gabriel
DAVIES William and two infant children
DAVIS Jeanette Ann
DeCAUX Alice, Gleeson, Austin Frederick, Wesley James
DeCAUX Clarence
DeCAUX Fanny & Vaughan
DeCAUX Felix
DeCAUX Felix Philip Frederick
DeCAUX Frederick
DeCAUX Gilmorea
DeCAUX Martha Jilbert
DeCAUX Myrtle E
DeCAUX Philip
DeCAUX Sarah Ruth
DEER John Gregory
DOWTY Henry, Hannah M & Charity
DUNSTAN Eliza, John, John, Eliza & Walter
DUNSTAN John
DUNSTAN William - died 1864
DUNSTAN William - died 1874
EASTWOOD Gertrude, Mary Elizabeth & Enoch
EDEN George E J
EDEN Reva Doreen (Roberts)
ELLBOURN Gregory Craig
ELLBOURN L M (Merv) - died 1990
ELLBOURN Murray Joseph
ELLBOURNE Mavis Jean
ELLIS Jessica
ELLISON Alfred Hurtle Millet
ELLISON Christopher John
ELLISON Myrtle Irene
ESSELBACH Rosslyn Eryl (Pulford)
FARMER Jean Winifred
FARMER Thomas
FARMER William - on Bassett headstone
FIGG David George
FLOCKART Andrew Isaac
FOOT James & Sarah Jane
FOREMAN James
GEPP Vincent Ernest
GOLDSMITH Ernest William, Charles Alfred, Arthur William & Edith Isobel
GOLDSMITH John & Margaret Jane
GREENFIELD Alice Mary (Sibly) & Alfred Ferris
GRUNDY Harriett & Sarah Ann
HALL Jane and two infants
HALL Kate & Kate
HARCOURT Martha Turner & Eliza
HARDY Ann R & John
HARDY Marianne W Hardy
HARDY Walter George & Alice Jane
HAYES Neville John
HERRING Elizabeth, Percival Martin & Ida
HERRING Francis W
HERRING William & Horace Spencer
HITCHCOX Richmond
HOBBS Ivy Gladys & Arnold Clifford
HOCKNEY Margaret, Elizabeth, John Edward & Sophia Jane
HODSON Keith
HOPKINS Alfred & Elizabeth
HOW Audrey Lynette (Martin)
HOW Lindsay Lock
HUMPHRYS Jonathan & Mary Florence
HUMPHRYS Murray & Allan Clifton
HUNT Mary
HUNT Maxwell William
HUTCHINSON Joseph John & Nellie Doreen
ILLMAN John & Caroline
JAMES Constance Ruby Amelia & Richard Cecil
JARED Emily Jane
JARED John & Jane
KERNICK Elizabeth & James
LEAKER Ada Adelena (Greenfield) - on parents headstone
LEVERINGTON Iris Miranda, Lloyd Algernon & Barrie
LEWIS Alfred George
LEWIS Phyllis May
LOONEY Rachel
MALE John Robert Percy, Elizabeth, Arabella & Emily
MALE Nicholas & Nicholas
MALE Thomas & Lydia Frances
MALE William Browne, Ann & Olive
MALE William Robert
MARSHALL Honor & Thomas
MARTIN Ann
MARTIN Elisabeth
MARTIN Elisabeth Jane
MARTIN John
MARTIN Myrtle & Frank
MARTIN Nelle & Malcolm Vernon
MARTIN Rosa Irene (Hunt)
MARTIN Thomas
MARTIN Thomas & Henry Egbert
McBURNEY Arthur
McBURNEY Marion
McBURNEY Percival Alfred
McBURNEY Thomas & Sarah Ann
MCDONOUGH Mark Hilary
McKINNON Angus Duncan
McKINNON Elizabeth
MESSENGER Ronald Harry & Rhonda
MILLER Gladys Irene
MILLER Gordon Ambrose James
MOORE Alice May
NEEDHAM Rex W V
NESTOR Martin, Margaret Elizabeth
NIELSEN Hans Balle
NIPPRESS Leslie George
NORMAN Arthur
NORMAN George, Mary Ann, Harold
NORMAN Ivy Ruth & John Richard
NORMAN John, Mary & Clara
NORMAN Martha Selina & John
NORMAN Sydney
OLIVER David
PAIN Gordon W & Ula Elizabeth
PEARCE Lois May (Waye)
PENGILLY Albert Ernest, John Thomas
PENGILLY Alice Louisa
PENGILLY Mary Jane & Charles Henry
PENGILLY Walter Octavius
PERRY Colin Edgar
PETERS Thelma Annie
PHILLIPS Matthew Paul
PIKE James, Eliza & Ernest Raymond
POINTON James, Peggy & Alice Selina
POINTON John Adam, Rosetta & Anne
POLKINGHORNE Ann, Joseph & Thomas
POLKINGHORNE Grace, Thomas & Eliza
POPE Henry Roy & Evelyn Blanche
POPE Trevor James
POPLE Donald Beecher
POWELL Elizabeth, Walter Albert & Edna Marian
PRICE Hedley Keith & Christina Lucy (Munro)
PRICE Rebecca & Hedley Charles
PRIOR Henry & Ethel May
PULFORD Cecil Ross
PULFORD Jean Rosalind
PULFORD Robin Bruce
RAMAGE Mary
REDSTONE Alfred Self Renals & Elizabeth
REED Dorothy Louisa & Murray Clifton
REED William & Eliza
REED William H
REED William Leonard & Edith Mabel
RISEBOROUGH Rhoda & James
ROBERTS Gertrude May & Ernest Sydney
ROSENTHAL Keith L
ROSENTHAL Nancy (Annie Alida) nee Squire
RUNDLE Edward Mathew
RUNDLE Ella Annie
SARA David Courtney
SARA Edwin Thomas & William
SARA Esther & George
SARA Frank
SARA Mary Esther
SAUNDERS - wooden cross
SCHOOLER Harold
SCHOOLER Olive
SCROGGS John Arthur
SHARLEY Ruth Caroline
SHARLEY Ruth Caroline (nee Nicol, formerly McMurtrie)
SHARLEY S W - died 1993
SIBLY Elizabeth
SIBLY Joseph & Susan
SIBLY Samuel & Rachel
SIBLY Simon Libby & Elizabeth
SIBLY Simon, Mary, Simon Libby & Avis
SIMONS Albert H
SIMONS Elizabeth E
SMITH Louie
SQUIRE Sidney Frank
STANDFIELD Henry Leo Barry & Ethel
STEWART Keith Thomas
STEWART Matthew Leslie
TALL Emma Ann
TAYLOR Mary Ann, Dorcas & Job
TAYLOR Robert Anthony
TAYLOR Robin John
TEAKLE Mary Ann & Edward
TRENAMAN Elizabeth Ann
TRENOWTH Charles
TRENOWTH Thomas
TRUEMAN Cecily Marguerite
UNKNOWN Elizabeth, Mary Ann & Alice
UREN Marion - on Pengilly headstone
VANSTONE Alice Ann
WATTERS Lenora
WATTERS Stephen
WAYE Adelena Sybil
WAYE Marcena George
WAYE May
WAYE S R M (Reg) - died 1994
WEHRMANN Gustav & Pauline
WEINERT Dennis Ernest
WEINERT J C Wilhelm & Magdalena S
WENHAM Mervyn S
WILLIAMS Hannah & Thomas
WILLIAMS Harold
WILLIAMS Henry & Arthur
WILLIAMS Honor
WILLIAMS Honor Eleanor
WILLIAMS Jane
WILLIAMS Mary Jane, William John, Mary Jane, Daisy Esther & Joseph Jubilee
WILLIAMS Peter, Johannah & Edith Alice
WILLIAMS Robert
WILLIAMS Zacharias & Elizabeth

I