Headstone photographs from WOODSIDE CEMETERY, Victoria are available free by e-mailing a request to Carol at

Remember to include the name of the cemetery in your request.

From time to time there may be a delay in sending photos so please check the Cemetery Index for any announcements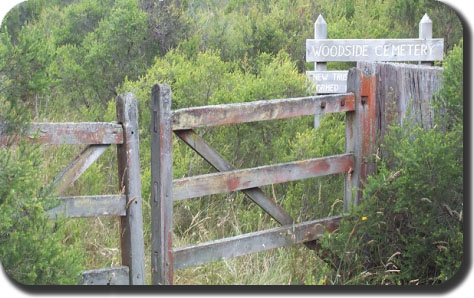 The photographs, transcriptions and additional details kindly donated by Donn-Lee.
The Woodside Cemetery lies a few kilometres North East of the small township of Woodside, off the C453 Highway, off Starlings Road.
The Cemetery is located about 1 kilometre down a small logging track to the right of Starlings Lane and Woodside North Road, and is accessible by foot only.
The Cemetery is densely overgrown with scrub, and is surrounded by farming land. Only nine headstones now remain in the Cemetery
The list below only refers to headstones and is not a complete burial list for the cemetery.
CADDEN John Enden
CANTWELL Sarah
COLLINS Angie Mary
COLLINS John, Julia, Patrick
COLLINS Margaret, John
FINLAY Jessie , John
KAY James, Alice, Thomas, Jessie
LOWE Mary, James
MORRIS Charles, Albert Edwin, Walter Henry


Photo Name

Transcription

Additional Information

CADDEN John Enden

John Enden Cadden

Died In January 1881

Aged 34 Years

Born about 1847

Son of Benjamin Cadden and Susannah Masssey

CANTWELL Sarah

In Loving Memory

Of

Our Dear Mother

Sarah Cantwell

Died 25th March 1926

Aged 57 Years

Born 1869

Daughter of Thomas Kay and Jessie Johnston

COLLINS Angie Mary

In Memory Of

Angie Mary Collins

Who Died 20th June 1895

Aged 23 Years

Born 1872

Daughter of Pat Collins and Mary Ann Lucas

COLLINS John, Julia, Patrick

John Collins

Died 16th Decr 1904

Aged 82 Years

Also his Wife

Julia

Died 30th Decr 1908

Aged 79 Years

And their Son

Patrick

Died 5th Sept 1893

Aged 30 Years

"Abide with me."

John - born about 1822

Son of John Collins and Cath Minnock

Julia - born about 1829

Daughter of Patrick Levy/Leavy and Julia Ryan

Patrick James - born about 1863

COLLINS Margaret, John

To The Memory Of

Margaret Collins

Who Departed This Life

January 12th 1867

Aged 6 Years and 7 Months

Also

John Collins

Who Departed This Life

April 4th 1878

Aged 16 Years and 4 Months

"Rest In Peace."

Margaret Ann– born 1859

Daughter of John Collins and Julia Levy

John – Born 1861

Son of John Collins and Julia Levy

FINLAY Jessie , John

In Loving Memory
Of our Parents

Jessie Finlay

Born Emerald Hill Victoria

20th December 1854

Died 9th December 1920


John Finlay

Born Stranraer Scotland

15th July 1847

Died 18th June 1922

Jessie

Daughter of Thomas Kay and Jessie Johnston

Parents unknown on death registration

KAY James, Alice, Thomas, Jessie

To the Memory Of

James Kay

Died 25th Sep 1874, Aged 24 Years

Also

Allison Kay

Died 31st March 1887, Aged 34 Years

Also

Thomas Kay

Father of the Above

Died 23rd Feby 1899, Aged 81 Years

Erected by his loving Wife

Jessie

"Blessed are the dead which die in the Lord."

Also


Jessie Kay

Died 17th Jany 1909

Aged 81 Years & 8 Months

James - Born about 1850

Son of Thomas Kay and Jessie Johnston

Allison - Born about 1853

Daughter of Thomas Kay and Jessie Johnston

Thomas - Born about 1818

Parents unknown on death registration

Jessie - Born about 1827

Parents unknown on death registration

LOWE Mary, James

n Memory Of

Mary Lowe

Who Died June 27th 1894

Aged 84 Years

"Extend to me that favour Lord;

Thou to thy chosen dost afford;

When thou returns to set them free,

Let thy salvation visit me."

In Memory Of

James Lowe

Who Died Jany 21st 1889

Aged 95 Years

"That man is bless'd who stands in awe,

Of God; and love his sacred law.

I'll tidings never can surprise

His heart that fixed on God relies."

Mary - Born about 1810

Daughter of George Newey

James – about 1794

Son of Catharine and James Lowe

MORRIS Charles, Albert Edwin, Walter Henry

In Memory Of

Charles Morris

Died Sept 8th 1885

Aged 20 Years

Albert Edwin Morris

Died July 16th 1892

Aged 29 Years

Walter Henry Morris

Died July 31st 1892

Aged 20 Years

"Blessed are the dead

which die in the Lord."

Charles – born about 1865

Son of John Collins and Julia Levy

Albert Edwin – Born about 1863

Son of Edwin Morris and Frances Phelps

Walter Henry – Born about 1870

Son of Edwin Morris and Frances Phelps