Old Alberton (Pioneer Park) Cemetery Index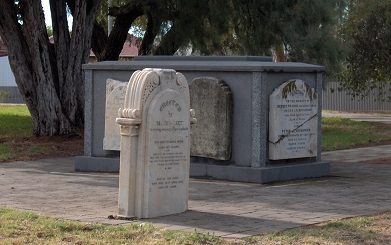 Between the early 1840's and 1874 approximately 3,000 people were interred in the Alberton Cemetery. After it's closure in January 1874 it became neglected, over-run with weeds and prickly pears. The headstones were vandalised, and the area used as an "adventure playground" by the local children. Today very few headstones remain, and the area has been converted into a park.
Surviving headstones are:
JEAL, Rowland T.
JEAL, Sarah Jane
Le MESSURIER, Betsey Pradon
Le MESSURIER, Peter
TAPLEY, Margaret
TAPLEY, Richard
TAPLEY, Richard Mourdant
TAYLOR, Margaret
TAYLOR, William
WILLS, Benjamin
Some interesting articles :
The Register, Tuesday 6 April 1926
The Mail, Saturday 11 June, 1927
The Mail, Saturday 18 June, 1927
The Mail, Saturday 16 July, 1927


cemeteryphoto@hotmail.com