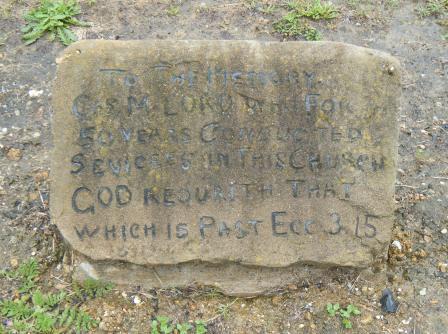 IN MEMORY
OF WM. & SAM WINTER
DONORS OF THIS LAND
FOR METHODIST CHURCH.
CONTRACTORS FOR FIRST
STEAM RAILWAY IN TAS
MERSEY DISTRICT.




RAILTON METHODIST CHURCH MEMORIALS

Roadside of the Church property (now privately owned), Foster Street, Railton.






























Mrs A. LING

A Tribute

To her work and
assistance to this
Church, and donor
of the Iron Gates, Pulpit
And Rails, etc. 1845.

To the Memory of
C & M LORD FOR
50 YEARS CONDUCTED
SERVICES IN THIS CHURCH.
GOD [REMEMBERS?] THAT
WHICH IS PAST. Ecc. 3. 15.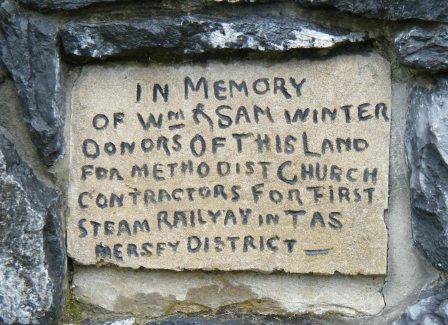 THIS
MEMORIAL STONE WAS LAID
TO THE CLORY OF GOD
AND IN MEMORY OF OUR FALLEN HEROES
IN THE GREAT WAR
1914 - 1918
BY HON. JOHN HOPE.



THIS TABLET WAS
PLACED HERE IN
APPRECIATION OF
MR JAMES BLENKHORN'S
FAITHFUL WORK
FOR THE CHURCH
& IN PARTICULAR
FOR ERECTING
THIS WALL
1922.















Back to top


Copyright Ria Kotynia 2011